Intermodal Network Update for Friday, October 14, 2022
OPERATIONAL PERFORMANCE
BNSF teams responded to several service-related challenges this week on the Southern Transcon while maintaining relatively steady overall service performance across the network. Car velocity increased slightly from the prior week and the average for September. Terminal dwell decreased, and our local service compliance measure, which reflects our efficiency in handling carload freight, was down slightly versus the previous week but averaged nearly 89% for the week.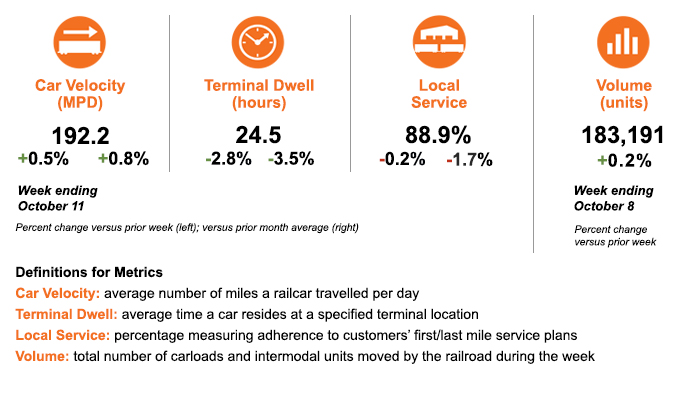 Shortly after midnight on Tuesday, BNSF operating teams responded to a weather-related washout on our Seligman Subdivision in Arizona, approximately 55 miles east of Needles, California. BNSF crews and equipment were deployed to the scene and restored service to the main track of this busy corridor by Tuesday evening. This incident occurred following another weather-related washout that happened last Friday. As reported, the washout affected both main tracks, ten miles west of Gallup, New Mexico. Approximately 980 tons of ballast, the main component for the trackbed upon which railroad ties and track are laid, was used to restore the affected area. Thanks to BNSF teams' aggressive efforts, both main tracks were returned to service in less than 24 hours.
Additionally, a derailment occurred Wednesday morning at Curry, New Mexico, approximately 80 miles west of Clovis, impacting one of our two main tracks on the Southern Transcon. BNSF teams quickly restored service, returning the second track to service that evening.
LABOR BARGAINING UPDATE
The Rail Industry is in the final stages of national bargaining with twelve unions that collectively represent employees in the bargaining round. As reported, we have reached tentative agreements or ratified agreements with all unions. Currently, half of the unions have ratified agreements, and tentative agreements with five other labor organizations remain subject to ratification. One union has declined to ratify the tentative agreement. We are working together to develop next steps, and both parties agree to maintain status quo while we determine the best path forward, meaning there is not a risk of an immediate service disruption.
We will continue to update you as the agreements go through the ratification process with the various unions. If you have any questions, please contact your marketing representative.

INTERMODAL UPDATE
Lack of chassis availability continues to pose challenges at select intermodal facilities. Despite these challenges, we continue to see improvement in container availability at our Alliance Intermodal Facility, where teams have taken several steps to increase productivity and improve access to stacked units.
Lengthy street turn times for chassis continue to deplete the assets needed to unload trains at our hubs. We appreciate your efforts to prioritize the prompt pick-up of shipments and extending receiving windows to help improve traffic flows, reduce lot congestion at our inland facilities and provide the space needed for processing inbound freight as quickly as possible. Carriers are encouraged to take advantage of reduced wait times at all inland hubs during late evening and early morning hours.
BNSF has multiple tools available for customers to track their shipments. Please contact your BNSF marketing representative if you have any questions.

SERVICE EXPECTATIONS FOR THE WEEK AHEAD
We will continue to monitor the high risk for wildfire activity across the Central Plains due to dry conditions and gusty winds. The Great Lakes, Midwest and Northeast are experiencing winterlike conditions, as a cold front moves through the area. Flood watches are currently in effect in portions of the Southwest, including Southwestern California and Central Arizona. BNSF teams are monitoring these areas and are prepared to respond quickly to any service interruptions.
Elsewhere across the BNSF network, favorable operating conditions are expected, with no extreme weather anticipated during the upcoming week.
As always, we thank you for your business and appreciate the opportunity to serve as your transportation service provider. We welcome your feedback and questions.