Intermodal Network Update for Friday, January 21, 2022
Operational Performance
BNSF operating teams are generating some improved service performance while still confronting a challenging operating environment in our North Region. Arctic cold has remained largely in place throughout much of the Northern Plains and Upper Midwest. Temperatures in many locations across North Dakota and Minnesota yesterday morning dropped to around 25 below zero.
Air flow issues affected some trains in the region earlier this week, with stoppages that resulted in track outages on several subdivisions. As we have reported, train length restrictions are necessary and additional locomotives are required to generate proper air flow for trains' braking systems in these extreme cold conditions. We have also experienced reduced productivity at some terminals in the region due to multiple switch and air flow issues.
In our South Region, we are experiencing some train delays near Kansas City due to a derailment that occurred yesterday evening in our Logistics Park Kansas City (LPKC) intermodal facility. Four main tracks leading into the facility were impacted for several hours while crews cleared the scene. Three of the four mains are back in the service, with the fourth main expected to reopen by this evening. Congestion affecting traffic flows leading into LPKC from the west will continue to ease as service is fully restored and facility operations normalize.
Our teams remain focused on aligning resources with freight volumes effectively and maximizing productivity. Overall car velocity improved by more than 8% versus the prior week, while average terminal dwell was reduced by more than 2%. Our local service compliance measure also improved from last week as well as versus the average for December. Total volume for the second reporting week in January was up significantly from the prior week, which included the New Year's holiday.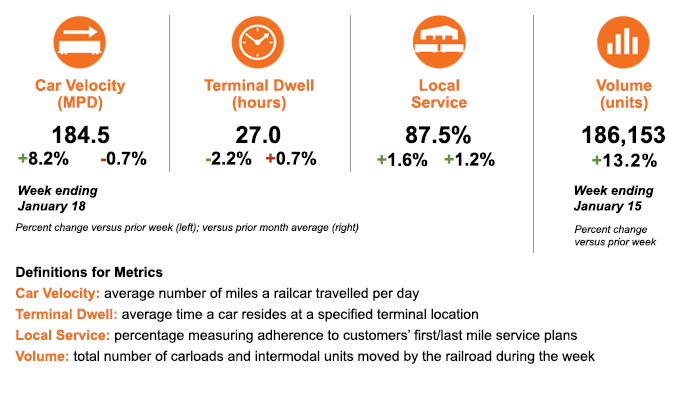 MRL Announces Conclusion of Lease with BNSF
Last week, Montana Rail Link (MRL) announced an agreement to conclude its long-term lease with BNSF. Upon receipt of the necessary regulatory approvals, BNSF would resume operations and maintenance of the mainline rail corridor through southern Montana. This would eliminate the need to interchange freight between the two railroads and create a more seamless supply chain in the Pacific Northwest.
The unique lease arrangement, which began in 1987, established a strong partnership between the newly created MRL and BNSF (then Burlington Northern) to provide customers with competitive, consistent service. MRL has become a critical link in BNSF's northern transcontinental network. Over the last several years, more than 90% of the volume moving on MRL has been handled and operated on behalf of BNSF.
If approved, BNSF will provide the same reliable and consistent service to those local customers served by MRL. BNSF has also committed to retaining all current MRL employees. We look forward to welcoming the MRL team and customers back into the BNSF family.

Service Expectations for the Week Ahead
With continued frigid temperatures across the eastern portions of our Northern Corridor, train length restrictions will remain in place there through the middle of the upcoming week. Favorable operating conditions are expected in other areas of the BNSF network, including dry weather in the Pacific Northwest during the next several days.
Multiple capital gangs have been deployed around our network, several of which are currently active on our Southern Transcon. The work being done, including rail/tie replacement, is critical to keeping our infrastructure in optimal condition. While train delays may occur during scheduled work windows, our operating teams are focused on minimizing any significant service disruptions as much as possible.
As always, we thank you for your business and appreciate the opportunity to serve as your transportation service provider. We welcome your feedback and questions.