Intermodal Network Update for Friday, January 20, 2023
OPERATIONAL PERFORMANCE
BNSF operating teams are making progress in generating improved service performance following challenging weather conditions at the end of December. Overall car velocity has increased over 8% versus December and remains relatively consistent with the prior week. Terminal dwell increased versus the previous week but has also improved from the previous month. Our local service compliance measure, which reflects our efficiency in handling carload freight, continues to improve. We've sustained our highest local service scores over the past ninety days, currently averaging over 90%.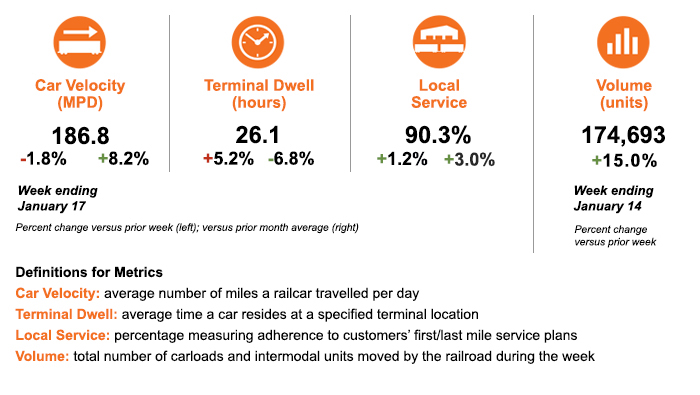 Heavy rain in northern California triggered a rockslide, resulting in a derailment Saturday night on our trackage rights between Keddie and Sacramento. Traffic through this busy corridor was diverted to other routes until service was restored last night. Customers with shipments moving between the Pacific Northwest and California should expect lingering delays until traffic flows fully normalize early next week.
BNSF operating teams responded to some service challenges associated with winter weather across our North Region. Our ability to move train crews and other personnel was challenged, particularly in Nebraska, where freezing rain caused significant road closures. Winter Action Plans were activated to ensure the safety of our workforce and that resources were in place to address service disruptions caused by the weather. As warmer temperatures return to the region, we expect to generate significant velocity gains and improved fluidity this weekend.
2023 CAPITAL PLAN
BNSF's 2023 capital investment plan was announced yesterday, reflecting our ongoing commitment to maintaining a safe, efficient, and reliable railroad and positioning for future growth opportunities.
Approximately $2.85 billion, the largest component of this year's $3.96 billion plan, will primarily be for replacing and upgrading rail, rail ties and ballast (which are the main components for the tracks on which BNSF trains operate) and maintaining our rolling stock. This year's maintenance program will include approximately 14,000 miles of track surfacing and/or undercutting work and the replacement of around 346 miles of rail and nearly 2.8 million rail ties.
Over $700 million of this year's capital plan has been allocated for expansion and efficiency projects. Most of these projects are focused on key growth areas along our Southern and Northern Transcon routes, connecting Southern California with Chicago and the Pacific Northwest to the Upper Midwest.
We will provide further details on many of the line capacity projects in subsequent updates throughout the year.

INTERMODAL UPDATE
Our intermodal operations continue to perform strongly. Our average velocity calculated over the past seven weeks is up nearly 15% versus our average from June to November last year. Additionally, our hub operations through our key inland facilities, including the Chicago, Alliance, Memphis and Kansas City Intermodal Facilities, are fluid.

As we move further into 2023, we continue to expect to deliver strong performance in the weeks and months ahead and encourage you to reach out to your marketing representative with any questions you may have about how we can meet all of your intermodal shipping needs.
SERVICE EXPECTATIONS FOR THE WEEK AHEAD
We are monitoring a winter storm moving across the Southwest today, dropping temperatures below freezing in some areas. The storm could bring heavy swaths of snow to portions of the Central Plains this weekend as it makes its way east on Saturday. Winter Action Plans will be implemented as necessary, with BNSF teams prepared to respond quickly to any service disruptions.
As always, we thank you for your business and appreciate the opportunity to serve as your transportation service provider. We welcome your feedback and questions.