Intermodal Network Update for Friday, February 18, 2022
Operational Performance
Rail operations through the central core of the BNSF network are recovering following another powerful winter storm. Heavy snow from Kansas through Missouri and into Illinois yesterday resulted in some delays and reduced train velocities. Kansas City received seven inches of snow, which broke a daily record set back in 1893.
Blizzard warnings are currently in effect across eastern North Dakota and northwestern Minnesota as another system moves through the region. Below zero temperatures are also in place across the eastern portions of the Northern Plains and Upper Midwest, which has necessitated train length restrictions.
On our Northern Corridor, multiple trains are experiencing delays due to a derailment that occurred yesterday morning in Minnesota. The incident occurred approximately 55 miles east of Fargo, N.D., on our primary east-west line between the Twin Cities and North Dakota. Both main tracks remain out of service at this location. Some traffic is being re-routed to minimize disruption.
Engineering teams have been working around the clock through very difficult conditions to clear the scene and restore affected track. The first main track is expected to reopen as soon as early tomorrow morning. Customers with shipments designated to move through this corridor should expect delays until operations through the area have been fully restored.
While we address these current disruptions, our key service metrics reflect some modest improvement from the challenging operating environment we have confronted throughout the past several weeks. Overall car velocity was up by nearly 7% versus the prior week, while average terminal dwell was reduced by more than 8%. Our local service compliance measure also improved from last week by nearly 5% as well as versus the average for December. Total volume was also up significantly from the prior week.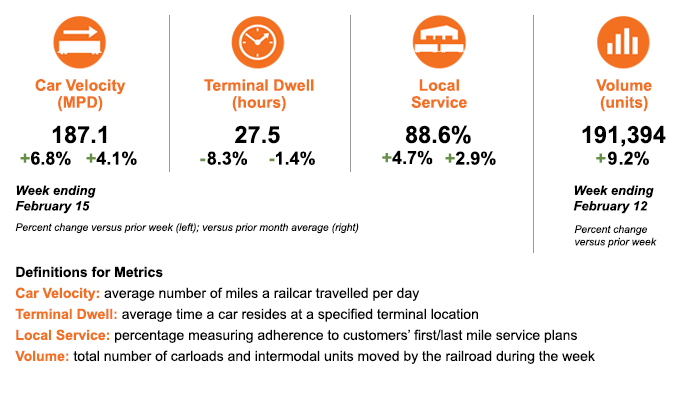 We continue to take actions to maximize productivity and align resources effectively with freight volumes. BNSF operations personnel remain focused on safely restoring service to the level you expect from us.
Service Expectations for the Week Ahead
With continued frigid temperatures across much of our Northern Corridor, train length restrictions will remain in place there through the upcoming week. An active weather pattern in the West is also expected to bring some significant winter storm activity to the eastern Rockies and into the Plains during the next several days. As always, BNSF teams are monitoring forecasts and will implement Winter Action Plans as necessary to pre-position resources and address any disruptions as quickly as possible.