Intermodal Network Update for Friday, December 3, 2021
Operational Performance
BNSF operating teams remain focused on aligning resources with traffic flows as we move into the first weekend of December. Overall car velocity increased slightly compared to the previous week as well as versus the average for the prior month. Terminal dwell remains elevated while our local service compliance measure, which declined from the prior week, reflects primarily holiday-related impacts on carload freight. Total volume was also lower due to the Thanksgiving holiday.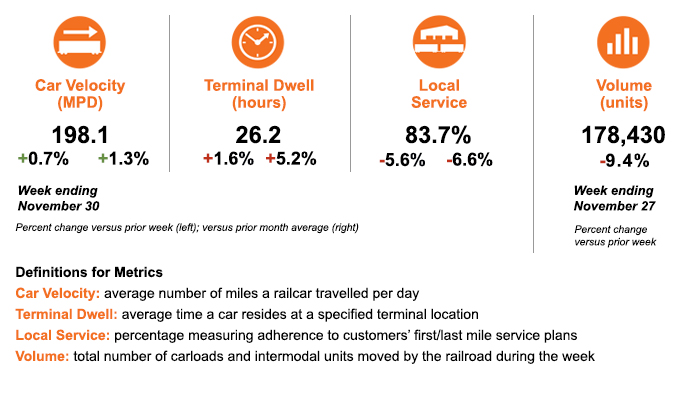 Earlier this morning, we experienced a derailment near Pacific Junction, Iowa, approximately 20 miles south of Omaha. Trains designated to move through this location may experience delays until service is restored. Some traffic may also be re-routed to minimize disruption.
Select interchange traffic to/from Mexico is also experiencing delays due to a pair of derailments that occurred earlier this week in central Mexico. All affected main lines have reopened, and traffic flows should begin to normalize in the coming days. In Canada, ongoing track outages due to flooding in British Columbia continue to restrict some interchange operations.
Service Expectations for the Week Ahead
An active weather pattern will bring periods of rain and significant mountain snowfall in some locations of the Pacific Northwest during the next several days. With a southward shift of the pattern, some winter weather is also possible in the higher elevations of the Southwest by late next week. As always, BNSF teams are monitoring conditions and are ready to quickly respond to any service disruptions. Favorable operating conditions are expected in other areas of the BNSF network.
As always, we thank you for your business and appreciate the opportunity to serve as your transportation service provider. We welcome your feedback and questions.