Intermodal Network Update for Friday, April 1, 2022
Operational Performance
Operating teams throughout the BNSF network continue to implement a broad-based program to restore and increase network productivity. The primary focus remains on reducing active car inventory to better align resources with freight volumes. While we have begun to see signs of improvement in some areas, our efforts to bring our service product back up to expectations will take time. We appreciate your patience and ongoing collaborative efforts with us.
Earlier this week, multiple trains experienced delays on our Southern Transcon route in Kansas due to a brush fire that caused brief service outages. All traffic through the area was stopped Tuesday evening and again early Wednesday as local fire teams addressed the fire. BNSF also deployed a fire train to the area to assist in firefighting efforts. During windy conditions, the risk for wildfires in much of the Southwest and Southern Plains is high as these areas experience a severe drought.
Regarding our key service metrics, overall car velocity was up by more than 2% while average terminal dwell was reduced by nearly 3%. Our local service compliance measure also improved by nearly 3% and is currently running about 2% better than the average for February.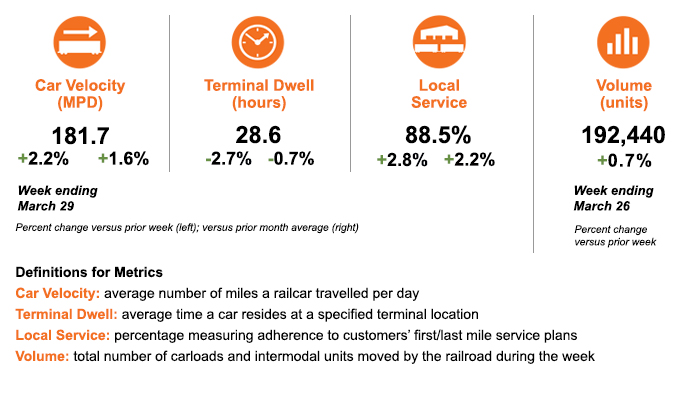 As we reported, we have an aggressive plan to hire approximately 1,000 additional train personnel this year to address crew availability needs. Despite facing the same attrition and hiring obstacles that nearly all U.S. corporations are experiencing right now, we are on pace to meet that hiring plan this year. We have recalled all train crew employees in the Pacific Northwest and California, and we are offering a large monetary incentive to some crew personnel to transfer to more in-need areas, specifically locations in the Pacific Northwest.
Service Expectations for the Week Ahead
Favorable operating conditions are expected across much of the network during the upcoming week. No major outbreak of severe weather is anticipated at this time.
As we move into April, we are nearing the start of our peak season for track maintenance activity. More projects will be getting underway soon in multiple areas of the network. BNSF Engineering and Operations teams are working closely together on project work scheduling, particularly in the busiest corridors, to minimize disruption to traffic flows as much as possible.