Industrial Products Network Update for Friday, September 16, 2022
OPERATIONAL PERFORMANCE
BNSF service recovery efforts are producing improved network performance as we move into the second half of September. Improved fluidity and velocity have enabled us to add additional merchandise and grain railcars to the network in alignment with freight volumes. We continue to work with individual customers to manage railcar inventory levels ensuring resources are aligned to handle traffic flows and velocity remains strong.
Normal operations continue at BNSF as we can build on the positive service momentum next week, with the imminent threat of a national railroad strike averted. As reported yesterday, tentative agreements were reached with all 12 unions. We will continue to update customers as the agreements go through the approval process.
On Saturday afternoon, the Bolt Creek Fire, which has now burned more than 9,000 acres and is 5% contained, threatened portions of the main line on our busy Scenic Subdivision, approximately 50 miles east of Everett, Washington. BNSF crews deployed a fire suppression train and crews to the affected area. Rail traffic was suspended through this location until Sunday evening when conditions were safe to resume.
Regarding key service metrics, overall car velocity was down versus the prior week but is higher than the average for August. Terminal dwell was down slightly and is performing better than the preceding month. Our local service compliance measure, which reflects our efficiency in handling carloads, was down slightly versus the prior week, and volumes were down, a reflection of the Labor Day holiday.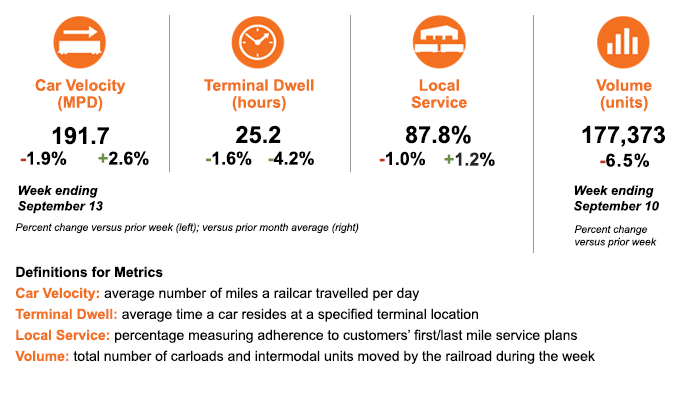 SERVICE EXPECTATIONS FOR THE WEEK AHEAD
Much of the network will experience favorable operating conditions during the upcoming week as a weather pattern change may bring some relief to the wildfire activity across the West.
As always, we thank you for your business and appreciate the opportunity to serve as your transportation service provider. We welcome your feedback and questions.