Industrial Products Network Update for Friday, October 28, 2022
OPERATIONAL PERFORMANCE
The operation continues to exhibit strong resiliency despite confronting multiple service challenges over the past few weeks. We are delivering strong volumes for fall harvest as well as improved coal volumes as we move into November. As we continue to prepare for peak holiday shipping season, restrictions at our ports have substantially eased, and we are current on shipments into our inland intermodal facilities.

Regarding key service metrics, overall car velocity was slightly higher than the previous month but lower than the prior week, reflecting weather-related challenges last weekend. High winds in New Mexico and Colorado, with reported gusts of 80 miles per hour, and across the Texas Panhandle north into Wyoming and eastward into Kansas resulted in train delays and reduced velocity. Average terminal dwell remains unchanged from the previous week but is running two percent lower than last month. Our local service compliance measure, which reflects our timeliness in the handling of carload freight, averaged nearly 89% for the week.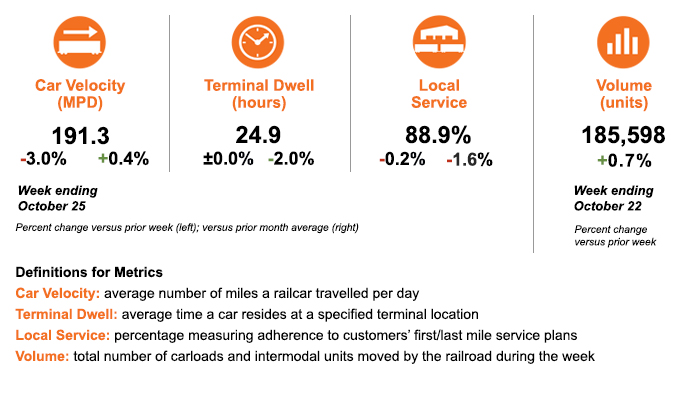 LABOR BARGAINING UPDATE
The rail industry continues progressing through its twelve unions' final stages of the national bargaining process. As we reported, tentative agreements were reached with all of the unions, and half have ratified agreements. Two unions have declined to ratify, and four unions are pending ratification of the tentative agreements, which implemented the recommendations from the Presidential Emergency Board (PEB) and included the most substantial wage increases in decades, with the average rail worker wages reaching about $110,000 per year by the end of the agreement. With health care, retirement, and other benefits considered, the value of rail employees' total compensation package averages about $160,000 per year.
There have been misleading media reports following a recently failed BMWED ratification regarding paid sick leave not being available to BMWED members. BMWED leadership originally hailed the tentative agreement, saying it would substantially improve their members' wages and working conditions. Their recent claims of not being provided sick time are inaccurate, as BMWED-represented employees have comprehensive paid sickness benefits starting after four days of absence and lasting up to 52 weeks. The structure of these benefits is a function of decades of bargaining where unions, including BMWED, have repeatedly agreed that short-term absences would be unpaid in favor of higher compensation for days worked and more generous sickness benefits for longer absences. The PEB declined labor's request for paid sick days beyond what they have today as it balanced the interests of both parties.
We are working together to develop the next steps with the two unions who declined to ratify the tentative agreements. The status quo period will run for several more weeks and continue to ensure Congress is in session at the time of expiration to be able to intervene if necessary. As such, a failed ratification does not present risk of an immediate service disruption.
We will continue to provide you with updates. If you have any questions, please contact your marketing representative.
SERVICE EXPECTATIONS FOR THE WEEK AHEAD
Seasonable weather and favorable operating conditions are expected, with no extreme weather anticipated during the upcoming week.
As always, we thank you for your business and appreciate the opportunity to serve as your transportation service provider. We welcome your feedback and questions.