Industrial Products Network Update for Friday, March 18, 2022
Operational Performance
BNSF operating teams continue to address key areas of the network experiencing ongoing service-related challenges. We remain focused on aligning resources, including equipment and train crews, to effectively handle strong freight volumes. The moderated weather conditions during the past several days have assisted our efforts in generating greater productivity.
Regarding our key service metrics, overall car velocity was up by nearly 2% while average terminal dwell increased by more than 2%. Average dwell remains elevated versus the level for February. Our local service compliance measure was up slightly from the prior week and is running nearly 3% higher than last month.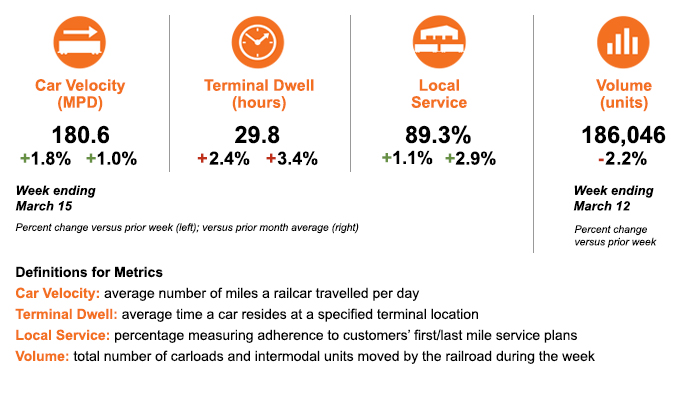 As reported earlier this month, we have implemented an aggressive program to restore service performance to the level you expect from us. We are beginning to realize some positive results in terms of improved velocity and locomotive availability. The need for additional train crews in some areas, however, continues to limit service recovery efforts. We are confident that our 2022 hiring plan, combined with network productivity initiatives as well as improved crew availability, will provide enough manpower to move freight more efficiently in the months ahead.
Embargo Affecting Canadian Pacific Traffic
In response to an anticipated work stoppage at Canadian Pacific Railway, BNSF issued an embargo, effective March 17, on all railcar traffic destined for interchange with Canadian Pacific Railway at the following locations: Alberta – Coutts; British Columbia – New Westminster, Sumas, Vancouver; Manitoba – Winnipeg; Minnesota – Noyes; Montana – Sweet Grass.
The work stoppage is set to begin on Sunday, March 20, if the parties are unable to come to a negotiated settlement or binding arbitration. This embargo may be revised or cancelled at any time.
Service Expectations for the Week Ahead
As winter transitions into spring, a significant outbreak of severe weather is possible across the Southern Plains and Gulf Coast early next week. The storm system, which is expected to develop across the Southwest and then move into the Central Plains, may also generate some heavy snow and blizzard conditions in parts of Colorado and Wyoming. As always, BNSF teams are monitoring forecasts and are prepared to respond to any weather-related disruptions as quickly as possible.
As always, we thank you for your business and appreciate the opportunity to serve as your transportation service provider. We welcome your feedback and questions.