Industrial Products Network Update for Friday, June 24, 2022
Operational Performance
BNSF operating teams remain focused on addressing significant service challenges in the Southwest and Southern California. Earlier this week, flash flooding from monsoonal rains resulted in a service outage on a portion of our Southern Transcon near Laguna, New Mexico, approximately 70 miles west of Belen. Both main tracks were out of service for several hours as crews removed debris and repaired affected track as waters receded. Temporary speed restrictions were implemented once service was safely restored.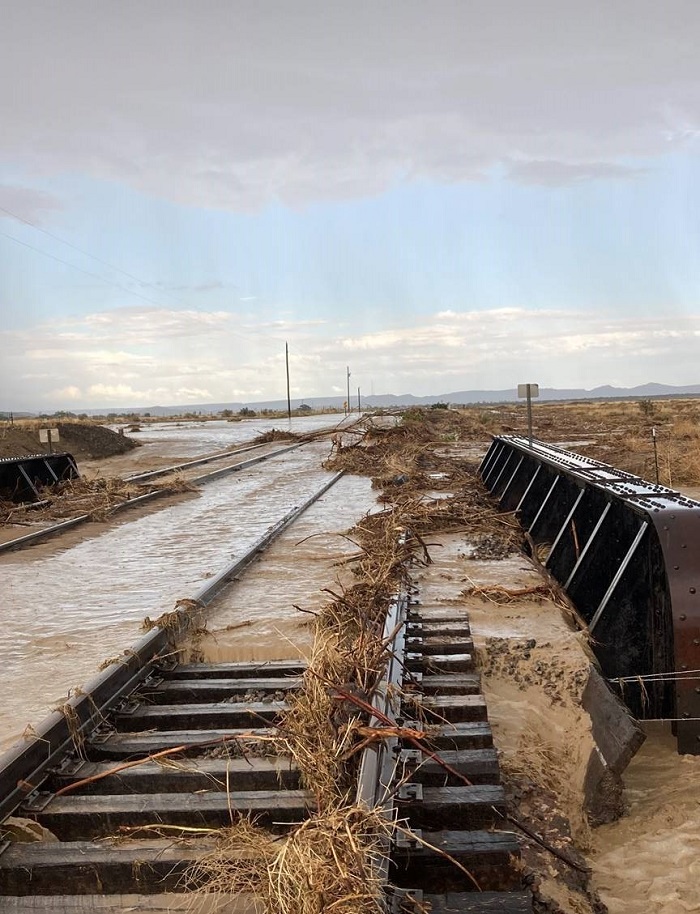 Flash flooding on our main line near Laguna, N.M. - June 20, 2022
This brief outage as well as the reduced velocity were a setback in our efforts to improve service performance in this corridor. The negative impacts are reflected in our key service metrics, with average car velocity down by nearly 4% from the prior week and down as well as versus last month. Terminal dwell increased by the same margin and is currently higher than the average for May. Our local service compliance measure did improve slightly from the prior week.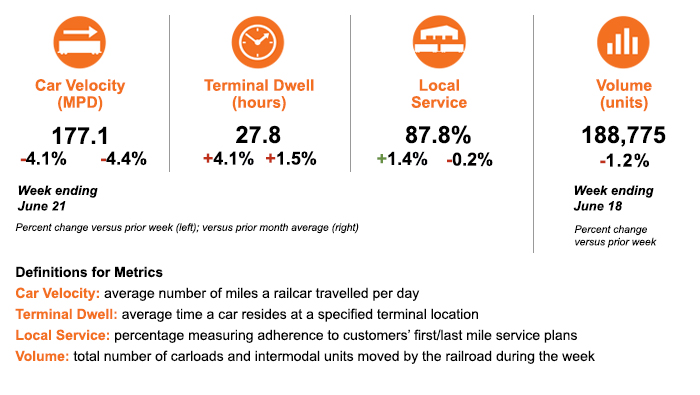 As we have reported, several high wind events and ongoing congestion have impacted the alignment of resources with freight volumes on the western end of our Southern Transcon, including our ability to efficiently utilize train crews in Southern California. We have been engaged in coordinated efforts to address these issues, including the transfer and deployment of additional locomotives and crew personnel to the region. We also recently finalized arrangements to lease an additional 75 locomotives for our network fleet and have begun taking delivery of those units.
While our efforts, as part of our service recovery program, will lead to more positive results, we are acting more aggressively in the short term to improve fluidity in the region. As detailed in our June 23 Service Advisory, we are implementing a temporary permit embargo affecting some westbound traffic moving to destinations in California. This limited embargo will cover automotive shipments as well as specific agricultural and industrial commodities. Intermodal shipments, which are being managed through alternate means, are not covered by this embargo.
The embargo will take effect Monday, June 27, 2022 for waybills with a shipment date beginning Wednesday, June 29, 2022 and is currently scheduled to expire on July 31, 2022. It applies to all commodities that are being shipped to destinations in California from the following states in the BNSF network: Alabama, Arkansas, Arizona, Iowa, Illinois, Kansas, Louisiana, Mississippi, Missouri, Nebraska, New Mexico, Oklahoma, Tennessee, and Texas. All eastern points of origin outside the BNSF network, which interchange through gateways located in those states, are also covered by this embargo.
For affected commodities, BNSF will issue permits to embargoed destinations. Permit requests must be submitted one week prior to desired shipment date. Customers can obtain more information as well as submit permit requests through this online form.
We believe the benefits of a quicker recovery and improved performance in this critical portion of our network outweigh the adverse effects from this temporary embargo. We appreciate your patience and will continue to provide updates on our progress in generating improved service performance.

Service Expectations for the Week Ahead
With the onset of the monsoon season in the Southwest, the risk for additional flash flooding in some areas, particularly those communities in New Mexico around burn scars from wildfires, remains high. Heavy rain and storms are likely in some locations this weekend into early next week. BNSF teams are monitoring conditions closely and will respond as quickly as possible to any additional service disruptions.
Following another round of severe storms expected across the Northern Plains later today into Saturday, favorable operating conditions will return to the region going into the upcoming week. No other significant outbreaks of severe weather are anticipated at this time.
As always, we thank you for your business and appreciate the opportunity to serve as your transportation service provider. We welcome your feedback and questions.