Industrial Products Network Update for Friday, December 17, 2021
With the upcoming Christmas and New Year's holidays, this is our last Network Update in 2021. Our next bi-weekly Network Update will be delivered on January 7, 2021. We will continue to update customers throughout the holidays on significant service interruptions that impact normal operating conditions.
We wish all our customers a very safe, happy and healthy holiday season.
Operational Performance
Rail operations continue to recover following significant service disruptions earlier this week. Extreme and unprecedented weather for mid-December impacted a large portion of the BNSF network on Wednesday, with high winds and severe storms across several states from the southern Plains to the upper Midwest. Multiple tornadoes were reported as well as a single-day record number of hurricane-force wind gusts, which resulted in train delays and reduced velocity.
Following the storm, with single digit temperatures in North Dakota and Montana, train length restrictions have been implemented on our Northern Transcon through the region and are expected to remain in place through the weekend. Heavy rain and snow in northern California from the same system also triggered a rock slide Wednesday evening on the main line between Keddie and Sacramento. With the return of favorable conditions, operations in the area should improve during the next several days.
As we reported, we experienced a derailment Sunday night on our Southern Transcon in New Mexico. Both main tracks were out of service for approximately 24 hours. Train flows through the area are normalizing, with continued improvement expected through the weekend. Another derailment occurred Wednesday afternoon in Oklahoma as high winds affected the area. The incident occurred approximately 40 miles west of Enid, on our single main line that runs east from the Transcon into north central Oklahoma. Multiple trains were re-routed during the track outage to minimize this disruption. Service through the incident location was restored Thursday morning.
Regarding our key service metrics, overall car velocity decreased this week by 4% compared to the previous week. Terminal dwell increased but remained slightly below the average reported for November. Our local service compliance measure improved by more than 4% and is running above 91 percent. Total volume exceeded the 200,000-unit level, which was essentially unchanged from the prior week.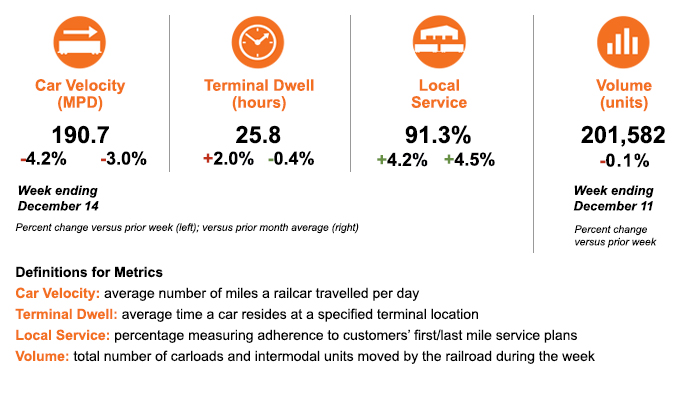 As we move into the winter season, BNSF teams are more prepared than ever to handle the challenges of operating during harsh weather. You can find more information on our winter preparations and plans highlighted here. Whether it's through extreme cold or blizzard conditions, we are committed to moving your freight safely, reliably and efficiently to its destination.
Christmas and New Year's Operating Plan
BNSF's Carload Christmas and New Year's operating plan will remain focused on meeting customers' expectations while matching operations to rail volumes. This year, BNSF will observe the Christmas holiday on Friday, December 24, and Saturday, December 25, and the New Year's holiday on Friday, December 31, and Saturday, January 1, 2022.
Train service will not be curtailed due to the holidays; however, BNSF plans to minimize the number of yard, local and road-switch assignments at terminals during the holidays consistent with customer activity and volume demand. Connecting carriers who have reduced operations may cause delays on interline traffic.
Customer Support will maintain a limited staff on Christmas Eve and New Year's Eve until 6 p.m. CT. Normal coverage will resume on the Sunday following each holiday.
Service Expectations for the Week Ahead
For much of the BNSF network, favorable operating conditions are expected during the upcoming Christmas week with no outbreak of extreme weather currently in the forecast. As always, BNSF teams are monitoring conditions and are ready to quickly respond to any service disruptions.
As always, we thank you for your business and appreciate the opportunity to serve as your transportation service provider. We welcome your feedback and questions.