Industrial Products Network Update for Friday, August 5, 2022
Operational Performance
BNSF experienced a derailment on Tuesday evening near Yost, Illinois, approximately 50 miles northwest of Peoria. As this incident occurred on the Southern Transcon, our primary route between Southern California and the Midwest, rail operations have been significantly impacted. BNSF crews worked around the clock to repair the track returning one main track to service early Thursday morning and the other this morning. With the high volume of traffic in the area, customers with shipments designated to move through this corridor should expect delays until operations have fully normalized.
Regarding our temporary permit embargo in California, we continue to increase the number of permits issued to customers. This week marks the fourth consecutive week we have been able to increase the number of permits granted, putting us at four times the number issued compared to four weeks ago. On Monday, we will add a construction commodity and 14 food commodities to the list of embargo exemptions allowing more rail cars and commodities to flow freely into California. We are also delivering an average of 600 more customer shipments to California destinations each day since the embargo started, another indication that incremental progress is being made to alleviate congestion and improve fluidity across the network. Customers can refer to our online form to see the updated exemption list, submit permit requests and obtain additional information.
The service interruption along the Southern Transcon was a setback in our efforts to improve service performance in this corridor. The negative impacts are reflected in our reduced average car velocity, down 2% from the prior week. Despite the derailment challenges, BNSF operating teams remain focused on executing our aggressive service recovery program. This week, network inventory hit its lowest point since January. This temporary reduction of railcars on the network is generating the additional capacity needed to improve fluidity and service consistency. We have generated some improvement in other key metrics, including an improvement in average terminal dwell and local service compliance.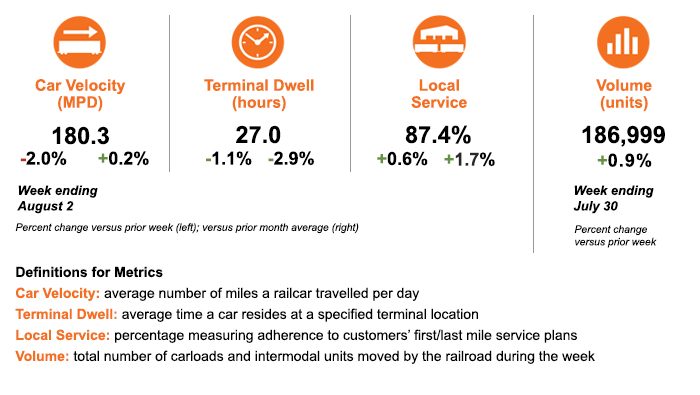 Service Expectations for the Week Ahead
Much of the Plains and upper Midwest will experience excessive heat through the weekend, with temperatures exceeding 100 degrees in many locations. Heavy rains and flood watches are in place in parts of the Southwest. BNSF will conduct additional track inspections during this period and are prepared to respond to service interruptions.
More seasonable conditions are expected across much of the network later in the week, with no significant service interruptions due to weather anticipated at this time.
As always, we thank you for your business and appreciate the opportunity to serve as your transportation service provider. We welcome your feedback and questions.