Coal Network Update for Friday, July 22, 2022
Operational Performance
BNSF operating teams remain engaged in comprehensive network restoration efforts. Average car velocity was down slightly versus both the prior week and the level for June. While still at an elevated level, terminal dwell was reduced by more than 4% versus the previous week. Our local service compliance measure improved while total volume increased by 9% from the prior week.
Some trains moving through Wyoming experienced delays early this week due to a derailment that occurred early Sunday morning on our Big Horn subdivision, approximately 30 miles northwest of Gillette. As we reported to impacted customers, the main line through the incident location was out of service for about 36 hours while crews worked to clear the scene and complete track repairs. Traffic flows through this location have since normalized.
Earlier this week, we experienced slower train speeds along the west end of the Southern Transcon due to high winds and extreme heat conditions coupled with ongoing congestion. As the week progressed, fluidity across our network continued to improve slowly, notably across our South Region, trending at its highest 7-day average velocity in the past 60 days.
As incremental progress is being made in alleviating congestion and improving our network conditions, we've been able to significantly increase the number of permits issued as a part of our temporary embargo for some westbound traffic moving to destinations in California. Customers can refer to our online form to submit permit requests, view the current list of commodities prohibited from the embargo, and obtain additional information. We appreciate your patience and will provide an update early next week on the status of this embargo.
As part of our recovery program, we continue to deploy additional resources, including locomotives and crew personnel. BNSF has deployed an additional 75 locomotives into our active fleet over the past 30 days to reduce the number of trains being held. Approximately half of our 2022 hiring plan has been achieved. As we have reported, our 2022 hiring plan calls for hiring nearly 1,800 crew personnel, as well as approximately 1,200 new personnel on our Engineering, Mechanical and Dispatcher teams.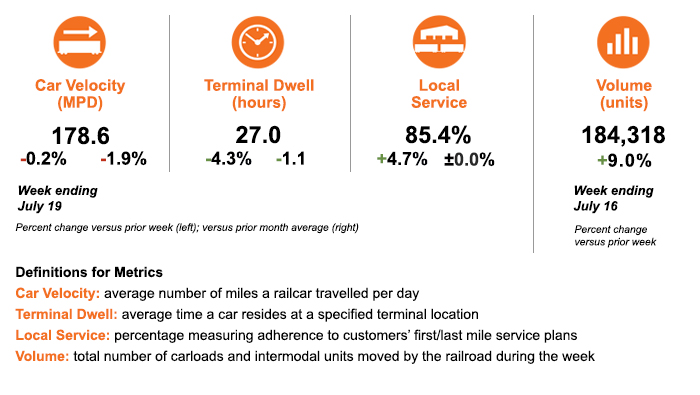 Service Expectations for the Week Ahead
Excessive heat warnings and advisories are in effect for much of the Southwest and a large portion of the Central Plains. We will continue to monitor the high risk for wildfire activity across the Northwest due to extremely dry conditions and gusty winds. BNSF teams are monitoring these conditions closely and will take appropriate actions to ensure safety.
As always, we thank you for your business and appreciate the opportunity to serve as your transportation service provider. We welcome your feedback and questions.