Automotive Network Update for Friday, September 17, 2021
Operational Performance
BNSF operating teams responded to weather-related challenges along the Gulf Coast this week while continuing to focus on maximizing productivity throughout the network. After Hurricane Nicholas made landfall early Tuesday morning in southeast Texas, our crews quickly addressed several flooded main line track segments near Galveston. Service to/from Galveston was restored early Wednesday morning, with some lingering delays involving traffic moving on other carriers' lines that were more significantly impacted. Operations through the region have since normalized.

We also responded to a derailment that occurred Tuesday afternoon between Bakersfield and Mojave, California. The incident resulted in a service outage of approximately 24 hours while crews were at the scene. Some trains have experienced delays as resources are realigned to handle normal traffic flows through the area.

In Northern California, the Dixie Fire is now 86% contained. Favorable weather conditions throughout the week have helped firefighters gain the upper hand on the large wildfire, which began in mid-July and has burned more than 960,000 acres. BNSF engineering teams remain engaged in a major project to repair a damaged tunnel just north of Keddie, Calif.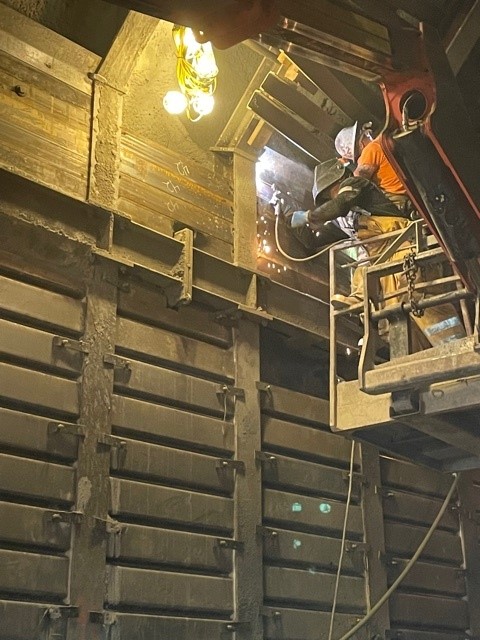 Installing new wall plates in tunnel near Keddie, Calif. – September 14, 2021
Work on the tunnel began in early August, and the project is currently estimated to finish at the end of September. Service restoration on our main line through the area will normalize, if conditions allow, shortly thereafter. In the meantime, we continue to re-route some Pacific Northwest-California rail traffic on longer routes further east.

Regarding key service metrics, overall car velocity was down versus the prior week but is higher than the average for August. Terminal dwell was unchanged and is performing better than the prior month. Our local service compliance measure is exceeding 91% while total volume was reduced, which reflects the Labor Day holiday.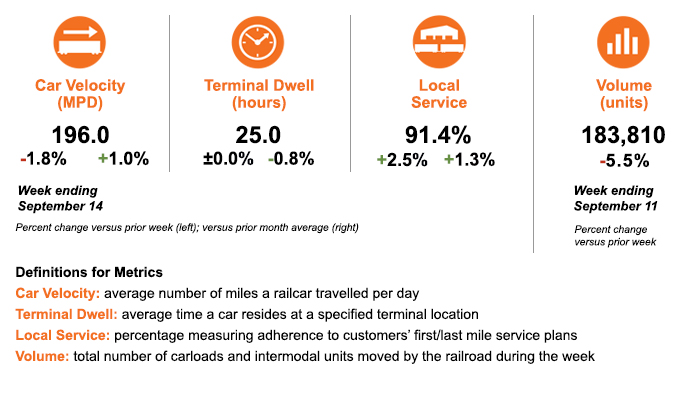 Service Expectations for the Week Ahead
For much of the BNSF network, no major service interruptions due to weather are anticipated at this time. Significant rainfall, the most since early spring or last winter, is expected in the Pacific Northwest as a storm system moves in this weekend. Some rain showers are possible in Northern California, which will assist the ongoing firefighting efforts. We also continue to closely monitor conditions in Louisiana as additional rainfall is expected there during the next several days.
As always, we thank you for your business and appreciate the opportunity to serve as your transportation service provider. We welcome your feedback and questions.