Automotive Network Update for Friday, May 27, 2022
Operational Performance
BNSF operating teams remain engaged in our service recovery program to restore and increase network productivity. Ongoing car inventory reduction efforts are making some progress in generating higher velocity and improved cycle times. We continue to work collaboratively with customers to ensure that railcar, power, and train crew resources are allocated in the most productive manner possible.
Earlier this week, we experienced slower train speeds as well as additional congestion at endpoint terminals along our Southern Transcon route and in the Gulf Coast region due to high winds and several service interruptions. With better operating conditions, we have been working to improve service levels in affected areas.
As part of our recovery program, we continue to address resource constraints at some key locations. We have been deploying more locomotives into our active fleet as well as repositioning units to places that are in greater need. We are constantly evaluating and adjusting the number of additional units that may join the fleet in alignment with freight volumes.
We are also working diligently to improve train crew availability in some areas, particularly Southern California. As we have reported, our 2022 hiring plan calls for hiring nearly 1,800 train crew personnel, as well as approximately 1,200 new personnel on our Engineering, Mechanical and Dispatcher teams. Our plan remains on pace as we have already hired more than 400 new train crew personnel, half of which have completed their training, with the other trainees following in the next 90 days.
Regarding key service metrics, overall car velocity was down slightly from the prior reporting week but is running 3% higher than the average for April. Terminal dwell increased and remains elevated, although still slightly below last month's average. Our local service compliance measure improved by about 2% versus both the prior week and prior month.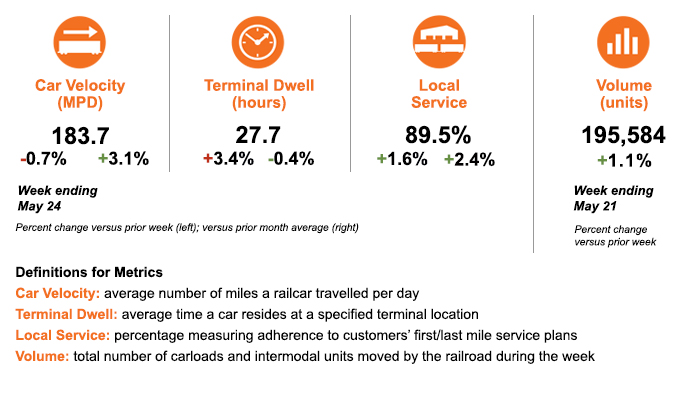 Memorial Day Holiday Operating Plan
BNSF's Automotive Memorial Day operating plan will remain focused on meeting customers' expectations while matching operations to any reductions in traffic volumes.
BNSF will operate automotive trains over the Memorial Day holiday weekend, and our automotive facilities will remain fully staffed and open for haulaway during normal scheduled hours. Connecting carriers who have reduced operations for the holiday may cause delays on interline traffic. Due to lighter traffic volumes over the holiday, we anticipate some extending of our service schedules as we consolidate volumes to fill trains. We expect that shipments arriving on the holiday, Monday, May 30, may experience delays of up to 24 hours.
Customer Support will maintain a limited staff on Memorial Day. Normal coverage will resume on Tuesday, May 31.

Service Expectations for the Week Ahead
Favorable operating conditions are expected across much of the BNSF network during the holiday week. We continue to monitor the high risk for wildfire activity in the Southwest, particularly in New Mexico, as severe to exceptional drought persists in most locations.
As always, we thank you for your business and appreciate the opportunity to serve as your transportation service provider. We welcome your feedback and questions.