Automotive Network Update for Friday, March 31, 2023
OPERATIONAL PERFORMANCE
Recovery efforts are ongoing in Minnesota following a train derailment yesterday morning near the town of Raymond, Minnesota, approximately 120 miles west of St Paul. As reported, the main track is out of service. It is currently estimated to reopen this weekend. This incident has not disrupted intermodal traffic flows, but some trains have been, and continue to be, re-routed to reduce delays. Once service has been restored, impacted customers may continue to experience delays to shipments until traffic flows have fully normalized.
Another powerful storm system is causing severe weather in multiple areas of the network today. Winter storm and blizzard warnings are in effect through Saturday across much of the northern Plains and upper Midwest. With 12-18 inches of snow expected in some areas of South Dakota, along with ice and high winds, some additional train delays are possible, given the difficult operating conditions. This storm is another in a series that has brought heavy snow and cold temperatures to the Northern Corridor this winter and caused significant challenges for train operations in the region. On Wednesday morning, the Bismarck, North Dakota area set yet another record - March 29 has never been colder with a morning low of minus 13 degrees. Severe weather is also possible through the Midwest and Mississippi Valley later today and tonight.
Despite these challenging operating conditions, we have made progress in generating improved service performance. The average car velocity was higher, and terminal dwell was reduced compared to the previous week and last month. Our local service compliance measure improved by nearly four percent from the prior week.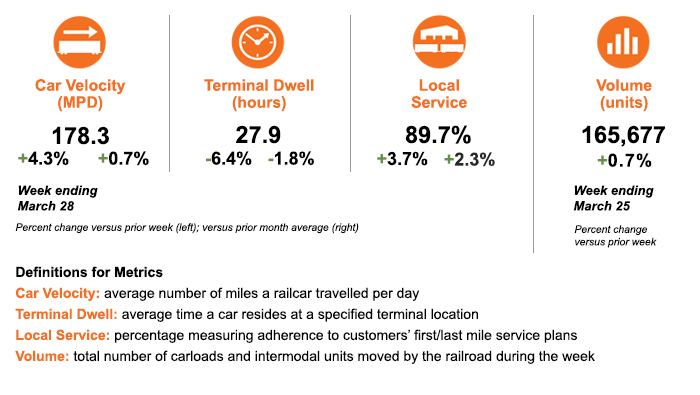 SERVICE EXPECTATIONS FOR THE WEEK AHEAD
We continue to monitor the potential for flooding and track washouts in California due to unprecedented amounts of rain and snow. One of the tactics used to identify and address flooding on our network is monitoring video taken by unmanned aerial vehicles (UAVs). UAVs provide real-time updates and video, allowing for a rapid and targeted response. In California, our crews have helped local agencies drop 1,100 sacks by helicopter containing more than 3 million pounds of ballast to assist in fortifying canal breaches and blockages. In addition, we have leveraged our equipment to clean out clogged culverts and assist farmers in plugging breaches in other area canals. Our California Division has also established a 24-hour command center to address any service interruptions.
As always, we thank you for your business and appreciate the opportunity to serve as your transportation service provider. We welcome your feedback and questions.