Automotive Network Update for Friday, February 4, 2022
Operational Performance
BNSF operations teams have been responding to service challenges from a major winter storm that impacted a large portion of our network. Below zero temperatures across the Northern Plains and Upper Midwest, as well as heavy snow and ice in parts of Kansas, Oklahoma, Missouri, and north Texas, resulted in significant delays and reduced train velocities. Winter action plans were implemented across multiple operating divisions in advance of the storm to pre-position resources and address any disruptions as quickly as possible.
With the ongoing frigid temperatures along our Northern Corridor, train length restrictions remain in place. High winds in Montana today through midday tomorrow, with gusts from 80-90 miles per hour in the mountain passes, will also affect some traffic moving on our Northern Transcon. As the operating environment gradually improves, our operating teams are working aggressively to drive greater resource productivity and service performance.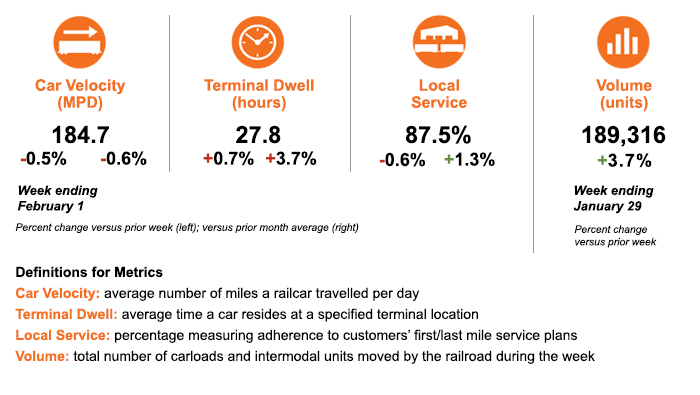 Our key service metrics continue to reflect the challenges associated with frequent extreme weather this winter as well as aligning resources with freight volumes. The ongoing COVID-19 pandemic, demands posed by an increasingly competitive global supply chain, and strained crew availability in key locations have all been factors. We have implemented new policies to help address these issues and reduce operational inefficiencies. We appreciate your patience as these efforts continue during the weeks and months ahead.
Service Expectations for the Week Ahead
Favorable operating conditions are expected across much of the network during the upcoming week. With milder temperatures in our North Region, we will be able to remove train length restrictions, which will help to increase efficiencies and reduce delays.
As always, we thank you for your business and appreciate the opportunity to serve as your transportation service provider. We welcome your feedback and questions.