Agricultural Products Network Update for Friday, October 15, 2021
Operational Performance
BNSF operating teams confronted some significant weather-related challenges earlier this week as a powerful storm system moved through the network. Heavy, wet snow along with blizzard conditions in southeastern Montana and eastern Wyoming impacted coal operations in the region, with reduced productivity and disruptions to normal train flows. As operations in the Powder River Basin normalize, we continue to address resource imbalances as multiple trains are still in hold status. Several actions have been taken and procedures implemented to generate greater productivity on our coal routes during the next few days.
The same storm also created unfavorable operating conditions across the Southwest. High winds, with gusts of nearly 70 miles per hour in parts of Arizona and New Mexico, resulted in reduced velocity for some trains on our Southern Transcon. Some of these same locations also experienced their first freezing temperatures of the fall season. As conditions improved during the past 48 hours, any velocity restrictions were removed as well as fluidity issues resolved along this section of the Transcon.
After a nearly three-month outage, service was fully restored Tuesday afternoon on our main line running between Klamath Falls, Oregon and Keddie, California. As we have reported, the Dixie Fire, which began in mid-July, caused widespread devastation across northern California, including burning two BNSF bridges, causing a tunnel to collapse and destroying signal assets.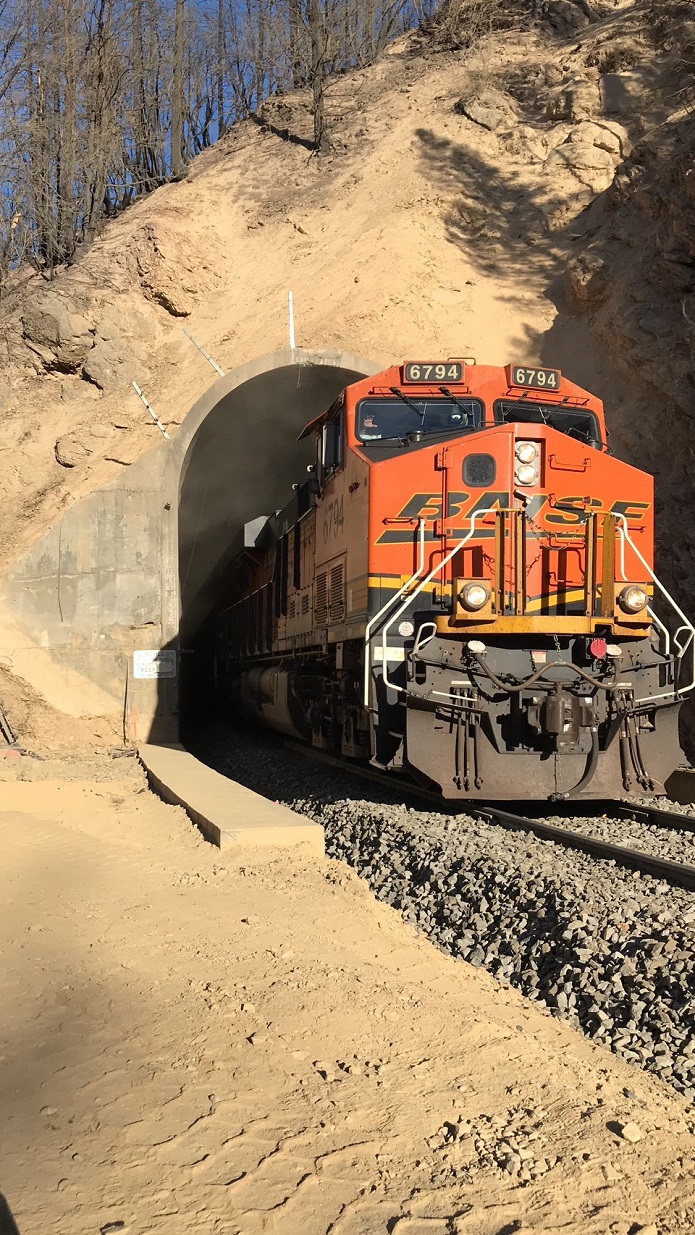 First southbound train emerging from repaired tunnel near Keddie, Calif. – October 12, 2021

Thanks to the hard work and coordinated efforts by BNSF teams and contractors, our infrastructure in the area has been restored. Trains designated to move between the Pacific Northwest and California are again operating on their normal routes.
Regarding key service metrics, overall car velocity was essentially unchanged versus the prior week and slightly higher than the average for September. Average terminal dwell is running about two percent above both the prior week and last month. Our local service compliance measure, which reflects our efficiency in the handling of carload freight, averaged near 91% for the week.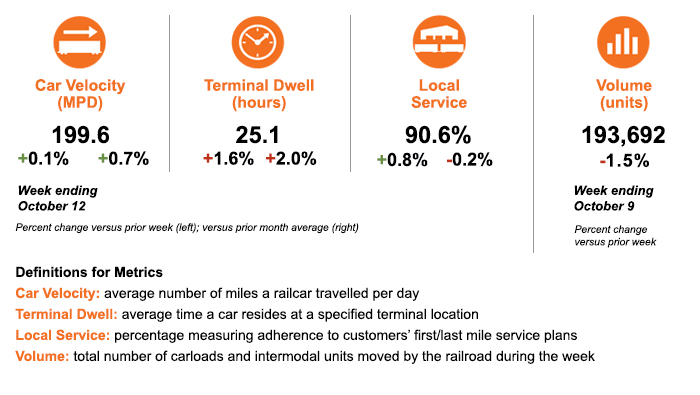 While some companies have announced their response to federal vaccine requirements issued in early September, BNSF is continuing to review the executive orders and the guidance that has been subsequently released. We are evaluating additional detail on who qualifies as a federal contractor, and what actions must be taken regarding employee vaccinations against COVID-19 under the mandates. We will communicate with our employees and customers as more information becomes available.

Service Expectations for the Week Ahead
As we move into late October, our peak season for track maintenance activity is coming to an end. While projects are still ongoing in multiple locations, there will be a reduction in the number of capital gangs on the network during the remaining weeks of the year.
After our first major winter storm of the season, mild and dry conditions are expected across much of the BNSF network during the upcoming week. No significant weather-related service impacts are anticipated at this time.
As always, we thank you for your business and appreciate the opportunity to serve as your transportation service provider. We welcome your feedback and questions.