Agricultural Products Network Update for Friday, November 11, 2022
OPERATIONAL PERFORMANCE
BNSF operating teams are focused on generating improved performance after confronting weather-related service challenges over the past week. A winter storm that brought blizzard-like conditions to the Northern Plains dropped 17 inches of snow on Thursday in Bismarck, North Dakota, marking the city's second-snowiest calendar day since records began more than 130 years ago. The storm is moving out of North Dakota and Minnesota today. Winter action plans were implemented by BNSF teams, which enabled rail operations and train flows to continue relatively uninterrupted.
Key performance metrics, including car velocity and terminal dwell, were negatively impacted by the high winds from last week's storms but are still significantly higher versus our summer averages. Our local service compliance measure, which reflects our timeliness in delivering freight, is currently averaging nearly 90 percent, an improvement versus the prior week and month.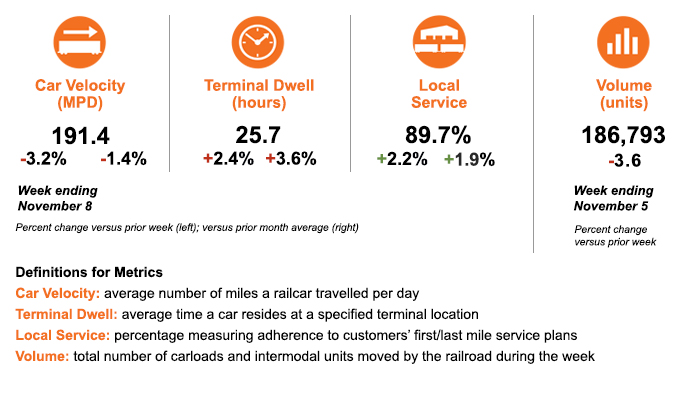 SERVICE EXPECTATIONS FOR THE WEEK AHEAD
Strong storms capable of producing heavy rain and flooding are expected as Tropical Depression Nicole moves north up the East Coast, which may impact some shipments moving to/from the area through interchange with eastern carriers. No significant winter storms are expected, with a quiet, albeit colder, weather pattern in place across the western U.S. Much of the BNSF network will experience favorable operating conditions for this time of year during the upcoming week.
As always, we thank you for your business and appreciate the opportunity to serve as your transportation service provider. We welcome your feedback and questions.