Agricultural Products Network Update for Friday, May 13, 2022
Operational Performance
BNSF service recovery efforts are generating improved network performance as we move into the middle of May. While congestion is still an ongoing issue in several areas, the temporary reduction of active car inventory and other actions we began implementing in early March are delivering positive results. We continue to evaluate and adjust the number of additional locomotives being deployed into our active fleet this month in alignment with freight volumes, and our crew hiring program of nearly 1,800 new employees this year remains on pace.
Regarding key service metrics, overall car velocity increased by nearly 2% versus the prior reporting week and is currently exceeding last month's average by 5%. We are also generating incremental progress on terminal dwell, which improved by approximately 1% versus both the prior week and month. Our local service compliance measure improved slightly to above 88%. Total volume increased by nearly 1% and was our highest weekly level to date in 2022.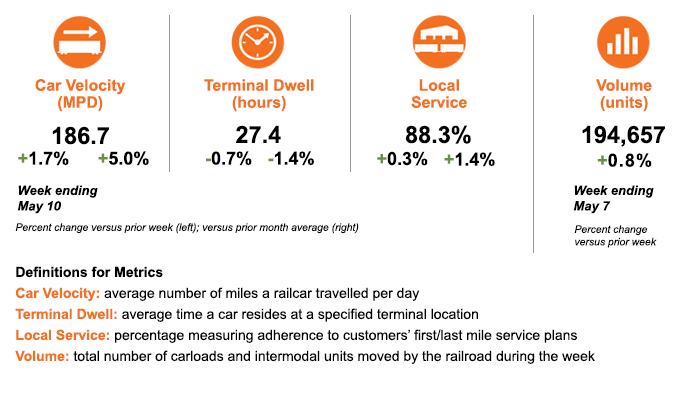 We are currently addressing some service disruptions in parts of eastern South Dakota, western Minnesota and Iowa following a large outbreak of severe weather in the region last night. Many locations experienced hurricane-force winds exceeding 75 miles per hour and a few tornadoes were reported. The state of South Dakota has declared a state of emergency as many communities in an area stretching from Aberdeen to Sioux Falls were significantly impacted. Several track segments in this region are out of service as we address multiple storm-related incidents resulting from wind damage as well as debris obstructing main lines. Crews and heavy equipment have been deployed to clear affected track and make repairs to affected signals infrastructure.
Several trains designated to move to/from some locations in eastern Oklahoma continue to experience delays due to a bridge outage on our main line running between Tulsa and Madill. The outage occurred following heavy rain in the area last week. We are able to detour a limited number of trains each day as restoration work is ongoing. The bridge is estimated to re-open on Friday, May 20.
As we reported, an embargo was issued Wednesday (effective Thursday, May 12) affecting southbound shipments designated for interchange with Ferromex (FXE) at our Eagle Pass and El Paso border gateways. The embargo, which is a temporary hold on freight to restrict acceptance and handling, is due to congestion as FXE works to resolve a system migration issue. Northbound shipments interchanging with BNSF at these gateways are unaffected. We continue to work with FXE on resolving this situation as quickly as possible.

Service Expectations for the Week Ahead
Favorable operating conditions are expected in much of the BNSF network during the upcoming week, with summer-like heat in place across the Southwest into the Southern Plains. We continue to monitor the high risk for wildfire activity in this region as severe to exceptional drought persists in most locations.
Track maintenance activity is ongoing in multiple areas of the network, including on our Northern and Southern Transcon routes. BNSF Engineering and Operations teams are working closely together on project work scheduling, particularly in the busiest corridors, to minimize disruption to traffic flows as much as possible.
As always, we thank you for your business and appreciate the opportunity to serve as your transportation service provider. We welcome your feedback and questions.