Agricultural Products Network Update for Friday, June 10, 2022
Operational Performance
BNSF operating teams remain focused on executing our aggressive service recovery program. While progress has been incremental, the momentum driving increased network productivity has continued following the Memorial Day holiday. During this first full week of June, we experienced our single-day best loading and velocity performance of the year to date.
The temporary reduction of railcars on the network remains an important lever to generating the additional capacity needed to improve fluidity and service consistency. As active inventory has been reduced, along with the additional locomotives and new crew personnel being deployed, resource availability continues to improve. Reduced car inventory is also enabling our ability to generate more significant velocity improvement, particularly across the northern part of our network that runs between the Pacific Northwest to Chicago.
Regarding key service metrics, overall car velocity increased by nearly 2% from the prior week and is currently nearly 3% higher than the average for May. While still elevated, average terminal dwell improved by about the same margin versus both the previous week and last month. Our local service compliance measure improved by nearly 3% from the prior week. Total volume for the reporting week, which included the Memorial Day holiday, was down by about 4%.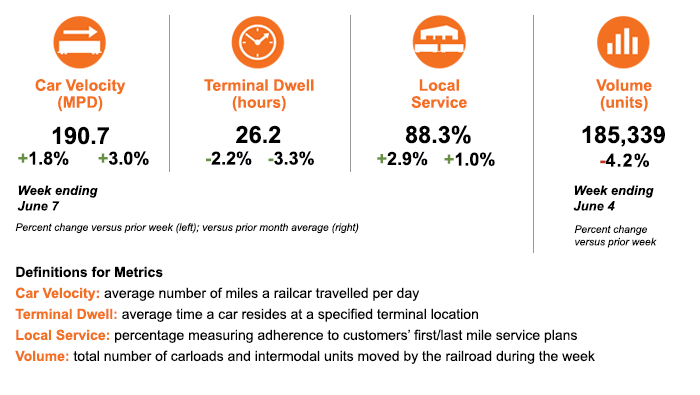 We also continue to address some ongoing service challenges on the western end of our Southern Transcon that have resulted in reduced velocity and fluidity during the past two weeks. As we reported, high wind events and congestion have impacted the alignment of resources with freight volumes, specifically our ability to efficiently utilize train crews in Southern California. Multiple BNSF teams are taking coordinating actions to alleviate congestion and generate the additional capacity needed to improve traffic flows through the area.
Service Expectations for the Week Ahead
Excessive heat warnings are in effect through this weekend across southeast California and into western Arizona, which includes our Southern Transcon route through the region. Some locations will likely experience record high temperatures between 110 and 120 degrees. BNSF teams are monitoring conditions closely and will conduct additional track inspections as necessary.
We are also monitoring some flood and landslide-prone locations in the Pacific Northwest as more heavy rainfall, which has been persistent during the past six weeks, is expected during the next several days. Most other areas of the BNSF network will experience generally favorable operating conditions with no significant severe weather anticipated at this time.
As always, we thank you for your business and appreciate the opportunity to serve as your transportation service provider. We welcome your feedback and questions.