Agricultural Products Network Update for Friday, January 7, 2022
Operational Performance
BNSF operating teams continue to address significant service challenges across much of our North Region due to ongoing extreme winter weather. During the past two weeks, below zero temperatures as well as heavy snow/rain in many areas from the Pacific Northwest to the Upper Midwest have resulted in train delays and reduced velocities. Some locations in Montana and North Dakota experienced temperatures of around 30 below zero during the final days of 2021.
With the Arctic cold, additional locomotives are required to generate proper air flow for trains' braking systems. Train length restrictions have been implemented, and will remain in effect through the weekend, along much of our Northern Corridor from Montana into Minnesota. We have also experienced reduced productivity at terminals in the region due to multiple switch and air flow issues across rail yards.
In Washington, heavy coastal rain/mountain snow has triggered slide activity along our main lines in multiple locations. Some trains also experienced delays due to a derailment that occurred Wednesday afternoon near Spokane. All main lines are currently open, but speed restrictions in some areas as well as congestion and resource availability are affecting recovery efforts.
In response to the harsh conditions, BNSF activated 24-hour command centers in operating divisions across the North. We shifted personnel and equipment to critical locations. From the Mechanical teams who have worked tirelessly to service our locomotive fleet to Engineering teams responding to track issues around the clock, we have deployed additional resources to address the various service challenges.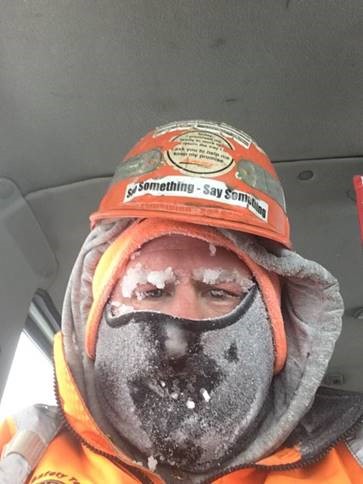 Maintenance-of-Way Section Foreman Jason Koranda (Twin Cities Division)
after clearing snow-covered switches – January 5, 2022
Our key service metrics reflect this extreme weather across the North, as well as holiday-related impacts on freight. While overall car velocity rebounded by nearly 8% versus the prior week, it remains nearly 7% below the average reported for December. Average terminal dwell also improved but is significantly higher than last month. Total volume reflects the lower level associated with the holidays.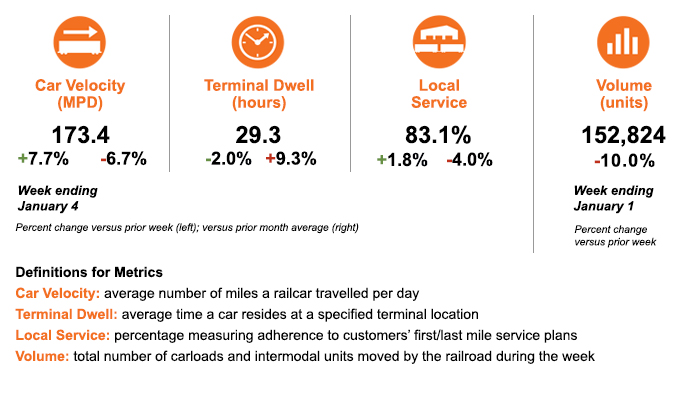 Winter storm warnings remain in effect for the higher elevations of Washington, northern Idaho and northwestern Montana. After another difficult 48 hours of impactful weather across the North, operating conditions will significantly improve through the region.
Service Expectations for the Week Ahead
With dry and milder weather in place across much of the West during the upcoming week, we expect to generate improved operational performance on our Northern Corridor. Train flows will continue to normalize as BNSF teams are able to align equipment and personnel more effectively with freight volumes.
As always, we thank you for your business and appreciate the opportunity to serve as your transportation service provider. We welcome your feedback and questions.