Agricultural Products Network Update for Friday, April 28, 2023
OPERATIONAL PERFORMANCE
As reported to impacted customers, BNSF experienced a derailment yesterday afternoon on our Aurora Subdivision near Desoto, Wisconsin, approximately 30 miles south of La Crosse. Both main line tracks are currently out of service. The first main track is estimated to reopen tomorrow morning, with the second main line estimated to be back in service by tomorrow night. With the high volume of traffic to/from Chicago, customers with shipments designated to move through this corridor should expect delays until operations have fully normalized.
Despite this challenge, as we move into the last week of April, we continue to generate service performance improvement. Average car velocity has increased by over six percent versus the average level for March, while terminal dwell has been reduced by nearly five percent. Our local service compliance measure has also increased and now exceeds 90 percent.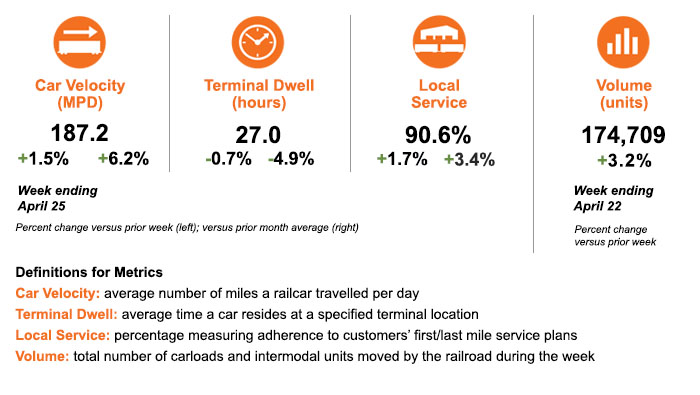 SERVICE EXPECTATIONS FOR THE WEEK AHEAD
BNSF continues to monitor the risk of flooding in the Midwest, particularly the areas surrounding the Mississippi River, as waters continue to rise due to warmer temperatures and rapidly melting snow from the historic snowpack in the northern Mississippi Basin. Flood warnings are in effect for the Mississippi River in parts of Wisconsin, Minnesota, Iowa, Illinois, and Missouri. In La Crosse, Wisconsin, the river reached a crest of 15.9 feet Thursday morning, making it the third-largest flood on record. In northeastern Missouri, the water level is expected to crest as early as Sunday.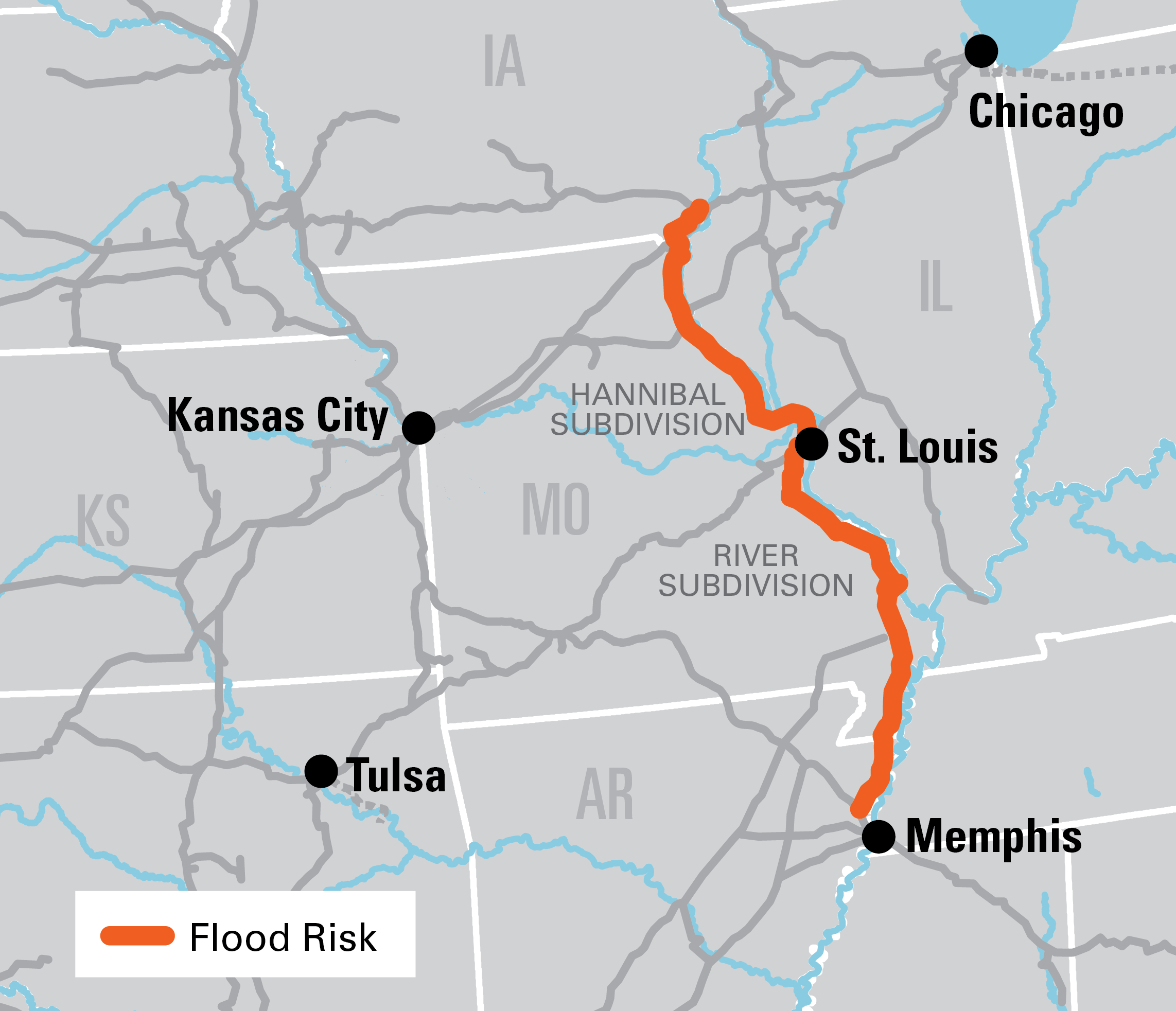 BNSF has taken many steps to protect and stabilize the network in the event of a flood. We've lifted approximately 24,000 miles of track on our network to prepare for rising waters in flood-prone areas, 130 miles of which are on the Hannibal Subdivision, which runs adjacent to the Mississippi River north of St. Louis, Missouri, and the River Subdivision, which runs south of St. Louis. Additionally, a protective layer of rip rap (a type of rock used for railroad ballast) is applied over the existing embankment to prevent water erosion. BNSF has over 400 miles of slope or embankment armoring, the most significant percentage, approximately 165 miles, is in the Heartland Division, where our track runs close to the Mississippi and Missouri Rivers. In the event of an outage, BNSF will re-route some traffic where possible to minimize this disruption. We're also ready with Command Centers and will preposition recovery materials and equipment if needed.
Trains on our Fort Worth Subdivision, which runs between the Texas/Oklahoma border and Temple, Texas, will experience delays next week when BNSF capital gangs begin work on a multi-phased expansion project to add a second section of main track in the Fort Worth area to increase capacity on this route.
Severe thunderstorms, with the potential for tornadoes, hail and strong winds, are expected in north-central Texas this afternoon and this evening. BNSF teams in the region are monitoring conditions for any potential service impacts. In most other areas of the network, favorable operating conditions are expected during the upcoming week.

As always, we thank you for your business and appreciate the opportunity to serve as your transportation service provider. We welcome your feedback and questions.